Ahoy, Disney fans! Are you ready to embark on a journey like no other? The Disney Cruise Line has just unveiled its newest ship, the Disney Treasure, and it promises to be a magical experience that combines the enchantment of Disney with the thrill of a Caribbean cruise. From immersive dining experiences to action-packed kids' clubs, this ship has something for everyone. So grab your compass and set sail with us as we explore what makes the Disney Treasure a true gem on the high seas.
Chart Your Course: Destinations and Early Booking
The Disney Treasure will begin sailing 7-night Eastern and Western Caribbean itineraries starting December 2024. For those who can't wait to book their dream vacation, early booking starts on September 12, 2023, for Castaway Club Members and select Disney Guests. So mark your calendars and get ready to explore the Caribbean like never before! Reach out to us today to start planning your upcoming voyage.
A Culinary Adventure: Dining with Character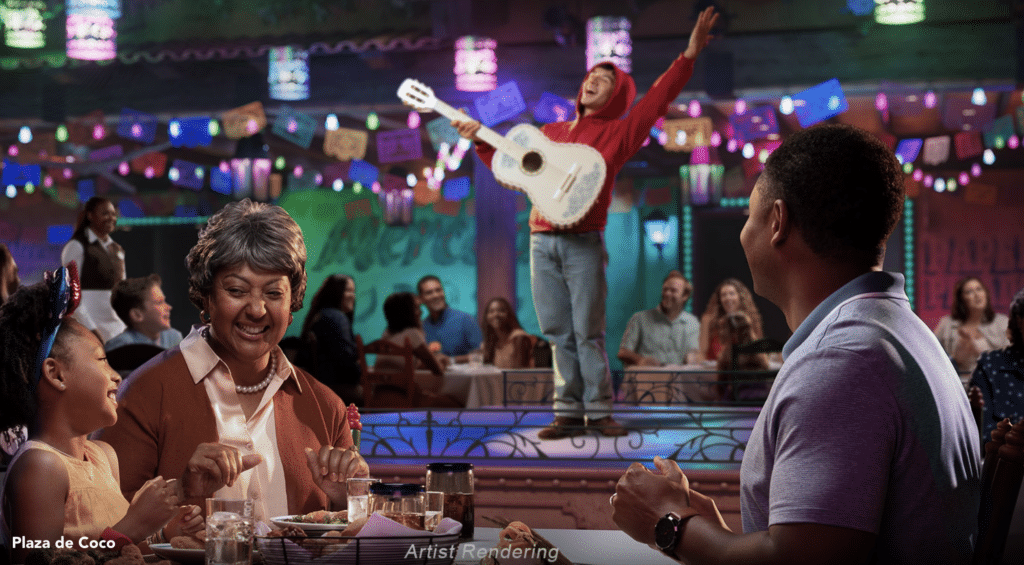 One of the highlights of any cruise is the dining experience, and the Disney Treasure takes it to a whole new level. Imagine feasting in the colorful plaza of Santa Cecilia during a multi-night, Coco-themed theatrical dining experience at Plaza de Coco. Or perhaps you'd like to suit up for a mighty dining adventure at Worlds of Marvel, where you can explore quantum technology and indulge in a global menu inspired by your favorite Super Heroes. And for those who appreciate the classics, 1923 offers a taste of Old Hollywood with fresh California cuisine amid storyboards, sketches, and props from adventure-themed Disney movies.
Quick Bites and Treats
If you're looking for something quick and delicious, Marceline Market offers a mix of mouthwatering specialties for breakfast and lunch. For those with a sweet tooth, Jumbeaux's Sweets is a larger-than-life ice cream parlor inspired by Jerry Jumbeaux Jr. from Zootopia, offering more than 31 flavors of handmade gelato and ice cream.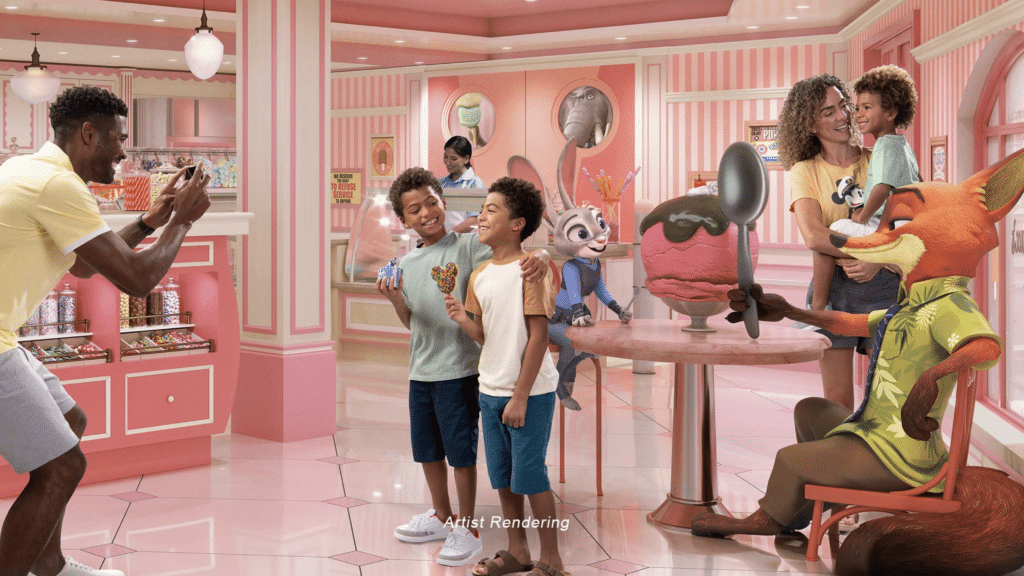 Spirited Entertainment: More Than Just a Show
The Disney Treasure offers a range of entertainment options that are sure to delight both young and old. From Broadway-style shows like Beauty and the Beast to original stage spectaculars like Disney Seas the Adventure, the ship offers a variety of live performances that will leave you spellbound.
AquaMouse: An Exhilarating Water Attraction
Looking for some water-based fun? The AquaMouse water coaster promises an all-new Mickey and Minnie Mouse short called Curse of the Golden Egg, complete with immersive show scenes, special effects, and incredible ocean views.
Elevated Adult Escapes: Sophistication Meets Disney Magic
While the kids are having the time of their lives, adults can seek out elevated, adult-exclusive escapes inspired by beloved Disney park attractions and films. From the exotic Skipper Society, inspired by the world-famous Jungle Cruise, to the stylish Periscope Pub, which takes you aboard the Nautilus, there's something for everyone.
Refined Culinary Pleasures
For a more sophisticated dining experience, Palo Steakhouse offers a range of premium steak specialties and exquisite Italian dishes. And if you're in the mood for French cuisine, Enchanté boasts an innovative international menu crafted by 3-Michelin-starred Chef Arnaud Lallement.
Action-Packed Kids Clubs: Where Imagination Takes Flight
The Disney Treasure offers a range of kids' clubs that promise to keep your little ones entertained throughout the voyage. From the Marvel Super Hero Academy to Fairytale Hall, where young royals can craft floating lanterns and act out their favorite stories, the options are endless.
More to Explore
For tweens and teens, Edge and Vibe offer chic hangout spots with floor-to-ceiling windows overlooking the ocean. And for those who want to experience the thrill of being a Disney Imagineer, the Walt Disney Imagineering Lab offers engaging hands-on activities.
Spacious Staterooms: Your Home at Sea
After a day full of adventure, retire to spacious accommodations designed with families in mind. From Inside to Royal Suites, each stateroom is designed to inspire and energize you for another day of magic and fun.
Conclusion: A Treasure Trove of Magic and Adventure
The Disney Treasure is more than just a cruise ship; it's a floating world of magic, adventure, and unforgettable memories. With its immersive dining experiences, spirited entertainment, and action-packed kids' clubs, this ship promises to offer something for everyone. So why wait? Set your compass toward the Disney Treasure and let the magic begin!
For assistance with your Disney Cruise, please call (800) 951-3532 or visit Disney Cruise Line.
Disclaimer: This blog post is not affiliated with or endorsed by Disney. All information is based on publicly available details as of the time of writing. For the most current information, please visit the official Disney Cruise Line website.